Pittsburgh Family Fun - E2 Toys 2 Try
Pittsburgh Family Fun goes to E2 Toys 2 Try
This weekend we visited E2 Toys 2 Try in Scott Town Center (South Hills). We'd heard great things about this new toy store/play place and were excited to check it out. Scott Town Center is located in the South Hills, off of Banksville Road. The center is directly next to the Little Snips hair salon (great for kids) so you could hit two birds with one stone and get a haircut after playing.
E2 Toys 2 Try is a combination of a toy store and a play place. Sound confusing? I thougth so too. I couldn't picture it in my head so I made sure to take lots of pictures for you. When you walk in the door the front quarter or so of the building is taken up with the toy store. The toys are not your garden variety WalMart toys. They are the harder-to-find wooden toys, organic toys, and foreign toys. I had a great time just browsing through the shelves. The toys were on the pricey side, but I don't think that's a reflection of E2 Toys but rather the toys themselves...high quality, hard-to-find unique items.
The play area takes up the back three-quarters of the building. Admission is $6 per child or a maximum of $10 per family. The centerpiece of the play area is a large wooden climbing ship with steering wheel and slide. All around the pirate ship are a variety of other "themed sections" of play. They had a kitchen area with food, stove, refrigerator that dispensed little wooden ice cubes, and an adorable tea set that even had wooden tea bags! Next to the kitchen area was a jumping/climbing area. There were a few mats for jumping and climbing ropes for the kids to climb. This area also included those large vinyl blocks for stacking/building. Next to the jumping area was an area with balls that was even sectioned off with a mosquito netting type of material so the balls would not fly wildly around the center, brilliant! They also had a separate area for toddlers/babies with a small castle to climb in and a variety of developmentally appropriate toys. The boys also enjoyed the small train table set up and the easel/drawing area. I tried to sell them on the puppet theater but they just kept gravitating toward all of the cool riding toys and gas station.
Most of the toys that were featured in the play area were also for sale in the front, or could be ordered by the owners, hence the "Toys 2 Try" name. There was no pressure to buy anything, though, it really was a play area just for playing. I found it wonderful to "review" the toys, though and saw several other parents doing the same (asking about buying certain toys or ordering special larger toys such as the kitchen set).
The play area also had bathrooms and picnic tables (and families are encouraged to bring their own food in and enjoy lunch or a snack while playing which was wonderful news!). And to top it all off there was a great selection of parent seating, free WiFi and free coffee and tea (and good coffe at that!)
They also offer birthday parties. The standard party includes exclusive use of the playground for up to 15 children, a personalized activity and gift for the birthday child for $225. A deluxe party ($325) includes pizza and juice and a semi-private party ($125) offers shared use of the playground for a maximum of 12 kids.
My only regret is that it is a bit far away for us to visit on a regular basis, but I was so impressed with the staff (the owner was there when we were there and he was most helpful with all of our questions), cleanliness, selection of toys and price.
It's most definitely a Playplace 2 Try!
The rundown
E2 Toys 2 Try
Scott Town Center
201 Greentree Road
Pittsburgh, PA 15220
412-276-8697
Hours: Open Play Mon-9:30 a.m. - 4:00 p.m. T-F 9:30-7 Weekends call for hours.
Price: $8 per child over 1 year, siblings $4 or $15 per family
Birthday parties: Private parties Sat & Sun 12:30-12:30 or 4:30-6:30 Semi private Sat & Sun 1-4 or Tues-Fri 9-6
Advantages
-Clean, comfortable atmosphere
-Bathrooms centrally located in play area
-A variety of developmentally appropriate toys
-The ability to ask questions about the toys and purchase them
-Friendly staff, nice music playing, plenty of Purell
-Price is very reasonable
-Free coffee, tea, WiFi and the ability to bring your own food
-Plenty of parent seating
-Small enough that you won't lose sight of your children

Disadvantages
-Birthday parties a little higher than average price-wise. *NOTE: The owners have changed their birthday party pricing since this original review and are now $50 lower. Yay!
-Not open for open play in the mornings on weekends
-Closes at 6 p.m.
Photos
Standing in play area, looking toward front of store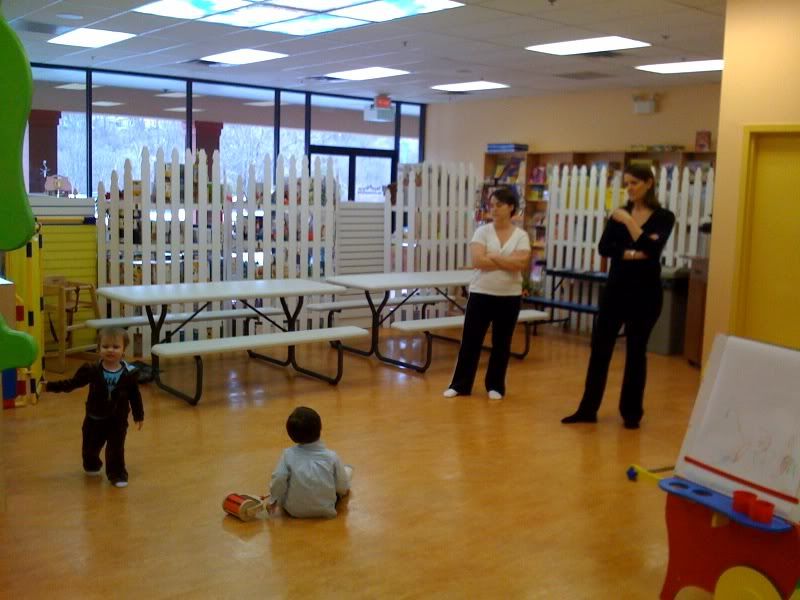 That same position, just turned completly around. The pirate ship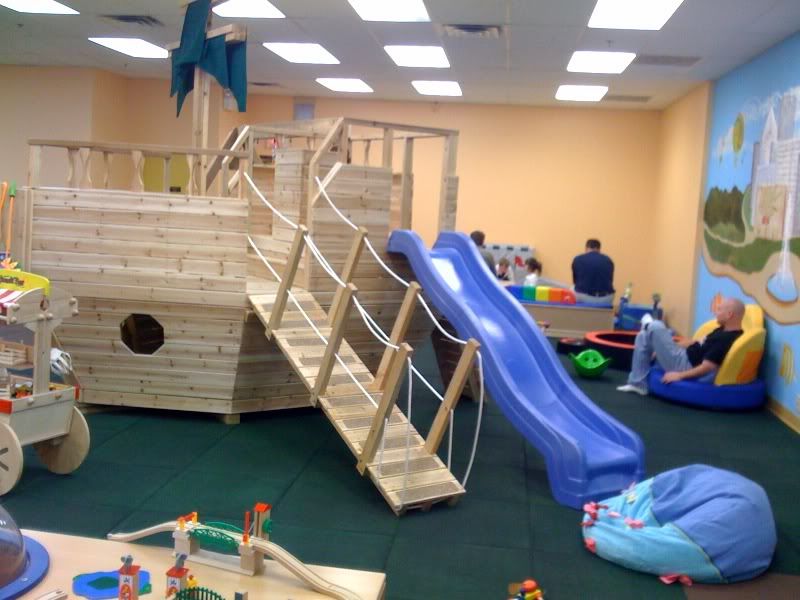 The toddler play area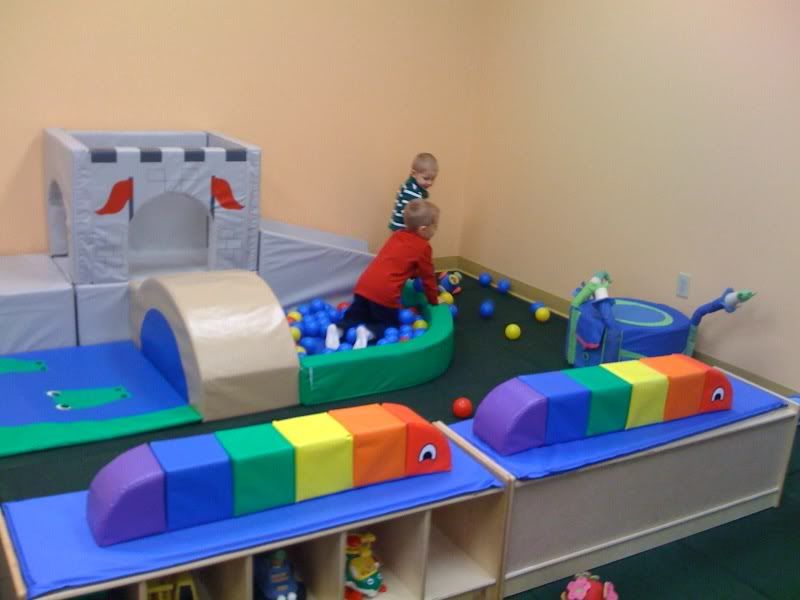 Kitchen and jumping area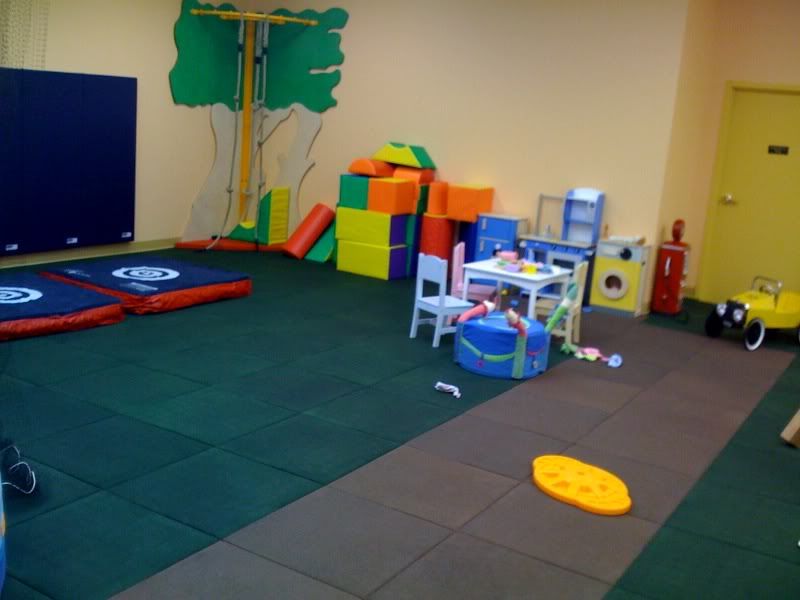 Plenty of fun parent seating and beautiful murals

Cool tent swing! (can be special ordered for $325)