Pittsburgh Family Fun - North Park Lounge Clubhouse
Pittsburgh Family Fun goes to North Park Lounge Clubhouse
The time is here. No fish on Fridays. We have two more Fridays in Lent and so I thought I'd review the North Park Lounge Clubhouse on Route 8 in Glenshaw. We've visited the NPL twice in the past three weeks to partake in our weekly Friday fish fry. Not only do they serve a fish fry the size of my head, there is plenty for the kids to do while waiting for a table.
We arrived at 7 p.m. the first time and were greeted with only a 20 minute wait. Last week we arrived closer to 6:15 and faced a 40 minute wait. I'd plan on somewhere around 30 minutes on a Friday evening.
While we waited for our table the hubby and I grabbed a drink and some tokens and let the kids go crazy in the arcade. Their favorites are the mini-bowling game, the skee ball and the race track game. Most games cost between 1-2 tokens (tokens are .25c each) but a few, like the bowling and racing, cost $1. We generally get $5 in tokens and that lasts us until our table is ready.
Once seated, the wait staff has always been wonderfully friendly and accomodating (even when the boys knocked over Matthew's entire chocolate milk within 3 seconds of arrival). The kids menu is standard fare with $4.99 meals that include a drink, a side item (my kids loved the yogurt choice and gobbled it all up) and ice cream for dessert. They also include 4 tokens for each kids meal purchased so we get to play one more game on the way out the door (and an excellent way to bribe them to eat their dinner). The restaurant is noisy enough that kids will not be noticed, no matter their volume level. And large TVs flank the walls to distract them even further. I never even bring our "backpack 'o toys to entertain them with. They also offer Tuesday kids day (kid's meals free) and birthday party packages.
Each time we've been during Lent, my husband and I have both ordered the fish sandwich and fries ($8.29) To say it is huge would be a massive understatement. We took half home each time. Other visits to the NPL I have ordered the Grilled Chicken Tortellini Salad ($8.99) over and over again. I know there are other great things on the menu but I literally crave that salad when I go to NPL. My husband says the burgers are excellent, especially the Moose Breath Burger ($6.99), but I haven't been able to see my way past that salad to try them.
So next time you're craving a fish sandwich on Friday, or just a good meal in a kid-friendly place, check out the North Park Lounge Clubhouse. It's like a playplace and dinner all in one!


The rundown
5301 Ranalli Drive & Route 8
Gibsonia, PA 15044
724-449-9090
Hours: Open most days 11 a.m. - 12 a.m. (closes at 11 on Sundays)

Kids Club: Tuesdays 5-8 p.m. $.99 kids meal with purchase of an adult meal. Most non-redemption (ticket) games free

Birthday parties:Package #1 Includes:
*$5.00 in Game Tokens and 50 redemption tickets for the special Birthday Child.
*$2.50 in Game Tokens for each guest of the Birthday child and 25 redemption tickets.
*1 1/2 hour party and a host to coordinate your party.
*Choice of a kids meal off the kids menu with drink.
* Dairy Queen Ice Cream Cake.
*One choice of the following activities: Scavenger Hunt, Time on the Basketball Court or Racing on the Race Car Game.
*A goody bag for each child attending the party with a free kids meal certificate & assorted candies.
$10.99* per child with a minimum of 10 children
*Plus 7% tax & 15% gratuity
Additional birthday party packages are available including a "Teen Birthday Package"
Photos
The front game room caters more to the under 10 crowd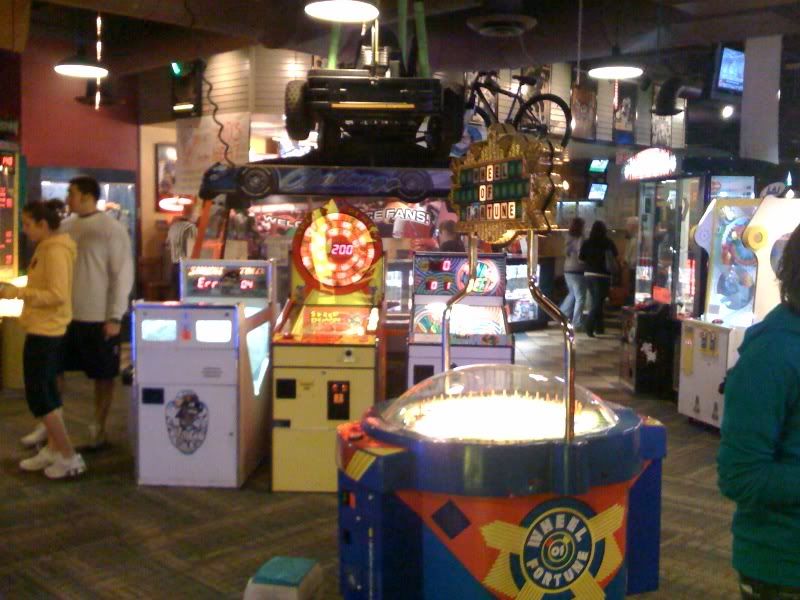 The back game room has dart boards, pool tables and air hockey for the older kids/adults

Ben REALLY gets into the bowling game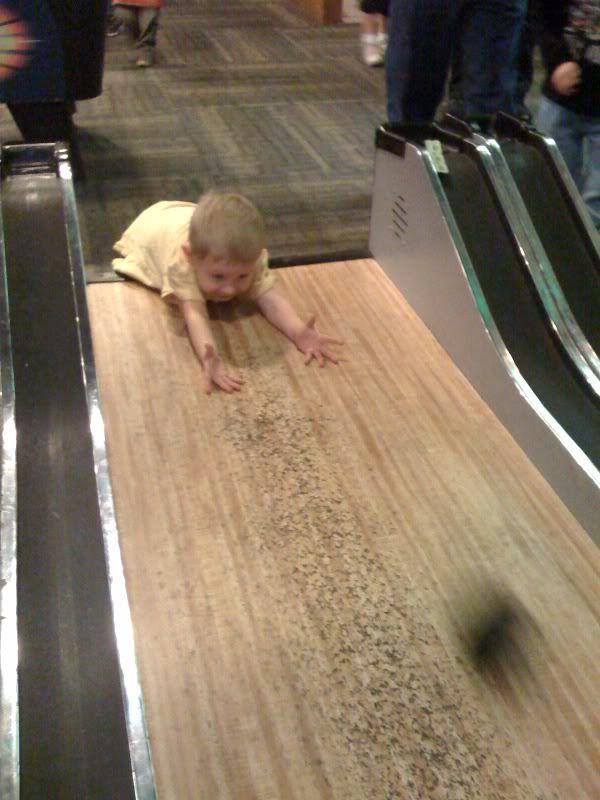 The dining room is large and comfortable, with plenty of seating

And the kids meals are huge...my kids usually share one