50 Toys in 50 Days - Gross Motor Toys
50 Toys in 50 Days
Week 2 - Gross Motor Toys
Mara provides us with some great gross motor toy ideas this week. You can always read her posts over at her blog by visiting http://www.letkidsplayblog.com
Sunday, November 14, 2010
Gross Motor Toys for Children with and without Disabilities: Gripper Balls
In this age of an epidemic of obesity, it is important that all children are getting outside to play and exercise. Often this is difficult for children with disabilities, because they may not have the ability to run or grasp a ball. Fun Gripper balls are one solution. Through their unique design, Fun Gripper Balls has made it easier to throw and catch - encouraging children to not be afraid or scared to try to catch. The soft exterior won't hurt a child's hands. The balls are multi-colored and kids think they are fun and cool. People of all ages love these balls, thus encouraging inclusive play.

As you can see below, Fat Brain Toys sells the football, multi-purpose ball, basketball, giant soccer ball, and bowling set. There are more varieties on Amazon.
Basketball
Bowling Set
Football
Multi-training ball
Giant Soccer Ball


Saturday, November 13, 2010
Gross Motor Toys for Children with and without Disabilities: Pocket Disc


Phd Classic Series Pocket Disc (Hurricane Yelda)To make up for the sticker shock from yesterday, here is a fun $10 toy. The pocket disc is like a Frisbee, except because it is crocheted it easier to catch. I played with this at Toy Fair and even I could catch it, which says a lot. Because it is light weight and soft, children will be less likely to be afraid to catch it. What makes the toy more meaningful is that they are made in Guatemala by Fair Trade artisans.

You can play with the Pocket Disc inside and it won't break anything. You can also play with it outside, but don't leave it outside as they do not guarantee that the colors will stay vibrant.

There are many different beautiful patterns to choose from so look through the entire section on Amazon to pick the one you like the most. They may not come exactly as you saw them as each one is individually crocheted.

Friday, November 12, 2010
Gross Motor Toys for Children with and without Disabilities: Weplay
I love the products that come from Weplay, a toy company from Taiwan. Their designers are wonderful early childhood educators who really get what children need. Their products have won design awards around the world because of how they are designed, the color, the shapes, and textures. I've rarely seen a product line that works so well for children with disabilities. But (and it is a big but)...you will have sticker shock when you see how much the toys cost. However, they are such great toys and Fat Brain Toys (FBT) just started carrying some of their line (I could never find them in the US before), that I just felt the need to share them with you.

Here are four different products for you to get an idea of what Weplay makes:

With two balancing pedals and one pair of detachable handrails, the Weplay Pedal Walker works like any quadricycle. For a more experienced user, the handrails can be removed to encourage a faster developement of coordination.

The Platform Swing is a unique seated swinging device that is manually controllable by the user. It is designed to stimulate the user's cerebral cortex through ample stimulation provided by the swinging motion. The rope is approximately 6 feet and the seat is 26" in diameter, with a maximum weight of 110 lbs. Platform Swing has been nominated as a candidate for the 2010 Fat Brain Toy Awards.

Here is the description of the Wavy Tactile Path from FBT: Kids will love walking on this Wavy Tactile Path. Walking windingly, in circles and repeatedly helps children understan body's center of gravity.

The patterns and the width of the board are designed to offer the most suitable tactile sensory intensity for the human body as well as the most realistic "nature" experience for children. It can be arranged into curvy or linear patterns to provide users with multiple ways of playing. There is no directional uncertainty; the change in angle is natural to humans. The slight slopes on the 4 sides of the board not only offer balance control for the front and back, but also stimulate the left and righ balance.

The pieces are stackable making storage and travel easy. Pieces come in a zip up bag with handles. Slope is designed based on the ergonomics of the foot arch.

Functions:
# Enhances muscle development and tactile stimulation.
# Improves vestibular balance, movement coordination and sense of balance.
# Tranquilizes emotions and enhances concentration.
# Improves self-confidence, learning ability and sense of reaction.
# Develops action planning ability.
# Helps children adapt new environment through games.
# Helps children cultivate spatial concepts through arranging and constructing.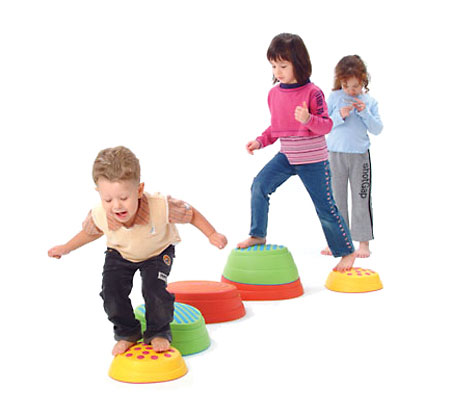 Here is the product description from FBT: Kids will have a great time walking from Rainbow River Stone to Rainbow River Stone. This product emphasizes on nature, flow and randomness to mimic real river stones. There are 3 different sizes of river stone that will suit the needs of growing children as well as allow as many free style route designs as possible.

The users must take off shoes and socks to ensure the exposure of the foot sole to the textured stone surface to stimulate sensory development.

Functions:
# Helps children learn to adapt the environment from game experiences.
# Improves self-confidence and reaction capacity through challenges of the game.
# Stimulation of the foot sole will lead to tactile development to the body.
# Improves emotional stability and concentration ability.
# Encourages learning interest.
# Enhances stimulation of the vestibular balance and promotes movement coordination.
# Active games for the whole body.
# Improves action plan ability.
# Activates muscle development.


Thursday, November 11, 2010
Gross Motor Toys for Children with and without Disabilities: Rody Horse

When a child sees a Rody, they head straight for it. Children love to bounce around on this well made toy. Children love the ears and it is the ears that helps children who are working on balance stay on the horse. They grab the ears and start to move around, making it a great toy for balance, coordination and vestibular motion. . Do not be surprised when those ears end up in a child's mouth. Every young child I have ever seen ride a Rody has put the ears in their mouths. But don't worry, Rody is easy to clean to with soap and water and is constructed of super strong, latex-free vinyl.

You can inflate Rody to the size and weight of your child. I would recommend that you purchase the inflater along with the horse. There is also a base you can purchase, if you want it to rock more than bounce. The base can also help children maintain their balance as it doesn't start moving around the house.

The one problem with Rody had been that children with special needs who loved the toy and needed the sensation the toy gives them, grew out of it around 6-7 years old. The exciting news is that they have developed Rody Max that is larger and can hold up to 300 lbs. You can find Rody Max at ebeanstalk.com.

Rody comes in great colors. Rody is sold by many different toy stores including Gummy Lump, ebeanstalk, and Fat Brain Toys. Each one carries different colors, so if your child is stuck on a particular color at the moment you might want to shop around.

You can also win one today at www.supportforspecialneeds.com. This great new website understands what I have learned over that last 17 years raising a son with a disability--we can all learn from one another.This is how they explain it: "It's an all encompassing label, yet we let a diagnosis divide us among this powerful group of advocates and caregivers into categories of rare and not-so-rare diseases, genetic conditions, developmental delays and the unexplained afflictions. We have more in common than separates us and Support for Special Needs is the community that offers a chance to exchange wisdom and ideas among one of the most powerful group of people we know. Join us as we learn from each other about how to help our kids and ourselves." So go over to www.supportforspecialneeds, win a Rody and join a great community of parents.

Wednesday, November 10, 2010
Gross Motor Toys for Children with and without Disabilities: Whoops Game
Whoops is a fun game for many ages and abilities. It can be played either inside or outside. The best explanation for how the game can be used by children with and without disabilities is from Pocket Full of Therapy, which is also where you can purchase it.

"Amazingly versatile game of balance and agility. Comes with 12 stepping stones numbered 1 - 12 and directions for playing a number of games as individuals or in teams. Basic concept is to step from stone to stone in a specificed number order without touching the floor with any body part. In many games you must also pick up stones in number order while balancing on other stones. Easily adjusts for play by any age or skill level. Move stones closer or further apart, change rules as you need, or make up your own game. Stepping Stones are light and stack together for easy storage and transport. Parents, teachers, OT's and PT's all need this game."


Tuesday, November 9, 2010
Gross Motor Toys for Children with and without Disabilities: YBike

This post is a repeat (sorry, if you already read it), but I think balance bikes are such a great invention, I wanted to make sure everyone read about it while we are talking about outdoor play. So I hope you forgive me.

A balance bicycle, or run bike is a training bicycle that helps children learn balance and steering. It has no pedals, no crankset and chain, and no training wheels. a balance bicycle is small enough that the rider can walk the bicycle while sitting comfortably in the saddle, putting both feet flat on the ground. The rider first walks the bicycle while standing over the saddle, then while sitting in the saddle. Eventually, the rider feels comfortable enough to run and "scoot" while riding the bicycle, then to lift both feet off the ground and cruise while balancing on the two wheels. Children as young as 18 months can learn to cruise a balance bicycle within a few hours' practice.

With a balance bicycle, the rider learns balance first, pedal last. In contrast, with a normal bicycle fitted with training wheels, the rider learns pedal first, balance last. Although opinions differ regarding which learning sequence is easier for most riders, it is generally agreed that a bicycle with pedals is too difficult for most very young children and that training wheels may encourage the rider to learn some behaviors which later must be unlearned. You can read more about balance bikes and watch a video in a previous post.

A new balance bike is now on the market, exclusively at Fat Brain Toys (FBT). FBT are big fans of great industrial design. So on a recent buying trip overseas, it was with absolute delight that they discovered the YBike. The YBIKE has been engineered with safety in mind and designed to help improve your childs balance and coordination skills.

This pushbike is tough. The YBIKE sports injection moulded construction, which eliminates weak points and offers more design freedom, provides sleek curves and a smooth, superior finish.

When it comes to kids, safety is the main concern. For this reason the front wheel is considerably further forward, affording a bigger turning radius, which reduces the risk of falling over the front when turning. The back wheel is also covered to stop children from riding over their feet. The YBIKE body is designed for better clearance of obstacles and the larger wheels produce a safer ride on uneven surfaces. The seat is 10.5 inches from the ground.

Enjoy the freedom of the outdoors and the joys of cycling from as early as two years old. The YBIKE will help your child develop an early sense of balance and control, along with independence, self-confidence and happiness!


A recent study from the Stellenbosch University Department of Sports Science in South Africa found that children who had opportunity to play on YBIKES for 20-30 minutes twice a week had:

* Substantial improvements in both static and dynamic balance
* Substantial improvements in bilateral coordination
* Observable improvements in physical self-confidence

Play on YBIKES has been noted for widely increased abilities in mastery of balance beams and climbing a jungle gym. They provide a great sensory integration experiences by refining neurological processes and body awareness (sense of touch, sense of balance -vestibular, and sense of where the body and its parts are in space –proprioceptive) through meaningful play.

YBike has a big brother called YBike Extreme:

BIKE Extreme is a more versatile and a slightly larger version than the original YBIKE. It features shiny aluminum frame, a narrower back wheel base and larger rubber wheels that make it a more versatile ride for children 3 to 5 years old.
Monday, November 8, 2010
Gross Motor Toys for Children with and without Disabilities: Swinxs
You remember earlier on in the series, I said that I don't really like computers and batteries because they don't promote imaginary play or active play. Well, I also said that all rules are made to be broken. Therefore, on the top of your shopping list year should be a Swinxs .Even though it is $150, it is worth it for the amount of play value it has. Every review I read talked about what a great investment this toy is.

It is very hard to explain what a Swinxs is, so you might want to stop reading and go directly to the video below. Swinxs is sort of like a game console. Each child gets a different colored wrist band that gets registered just by waving it over the top of the console. Then you choose your game. There are simple games, like Simon Says or very active games that push you to run fast. The Swinxs will even read you a story, but the fun part is that you get to change parts of the story with a push of a button.

Swinxs is the first screen-free games console that can play games, talk, listen and keep kids entertained and active for hours. Swinxs is durable, lightweight water-resistant and cordless. Its long-lasting battery approximately four hours of playtime ensures hours of fun whether in the playroom, at the park or at the beach. While a single player mode is available, up to 10 children can play Swinxs at a time, making it a great option for birthday parties.

Swinxs comes loaded with 10 games, however, you can go to their website and download any of their other 25 games for free. They continue to come up with different games so if your child gets tired of a game, you can always add another one.

This game is great for children who are working on following directions. Children who need structured social activities will find the easy directions clear cut with no changing of the rules. A child using a mobility devise can use it easily. It will bring all the neighbors to your yard to play, thus ensuring that your child is always included in the neighborhood fun.

I know it is very hard to understand, so just take a look.

The package includes a Swinxs Console with 10 games pre-loaded, 4 colored wristbands, an adapter and USB cable. You can purchase additional wristbands.